Can I do web Chek-in?
We offer Web Check-in service for your convenience
You could pre-check and select your seat previously to your flight since 24 hours BEFORE the departure time until a maximum of 3 hours BEFORE your flight.
If you had already done Web Check-in, you can arrive at the airport one hour before the departure time of your flight.
Si ya habías realizado el Web Check-in, puedes llegar al aeropuerto una hora antes de la hora de salida de tu vuelo.
How much luggage can I bring with me?
We know that in your luggage you are carrying much more than your clothes and accessories, you carry dreams, memories, experiences or your expectations for your final destination.
You can carry a maximum of 23 kg (50lbs) of luggage in storage and a hand bag of 4 kg, with the exception of rate "E" Econo Basic which can carry just one hand bag of 4 kg and luggage in storage will be charged at an additional cost.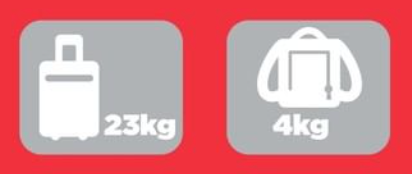 Previously verify the maximum allowed weight, according to the luggage franchise that has the right of the acquired rate in your ticket. You can look in our web page or contact our Reservations Department at (507) 316-9000.
What can I carry in my luggage and what I cannot?
What is the validity of my ticket?
You must check the rate type of the ticket purchased, the promotional rates can have a validity of 30 days. Tickets with premier rate have a maximum validity of 330 days.
Can I cancel my ticket?
En caso de que tenga que cancelar su boleto por no poder realizar su viaje, debe comunicarse con nuestro departamento de atención al cliente al +507 316-9070 / +507 316- 9069 o enviar un correo electrónico a servicio.al.cliente@airpanama.com antes de la fecha de tu viaje para que podamos verificar las condiciones de la tarifa adquirida y ayudarte con tu caso.
Can I transfer my ticket or change the name?
No, los boletos no son transferibles, si no puede utilizar su boleto, puede comunicarse con nuestro departamento de servicio al cliente al +507 316-9070 / +507 316-9069 o enviar un correo a ​ ​
How can I be sure my purchase was effective?
AirPanama sends you an automatic email with the ticket number and your flight information. In case you do not receive this confirmation by email you can also contact our reservations center at (507) 316-9000 to verify your reservation.
How long do I have to pay my online reservation?
Tickets processed at our web page must be paid at the time of the reservation.
Can I make changes to my reservation from the web page airpanama.com?
Para realizar un cambio, debe comunicarse con nuestra central de reservaciones al +507 316-9000 o enviar un correo electrónico a reservaciones@airpanama.com quien verificará la información y podrá realizar el cambio que necesita siempre y cuando tengamos disponibilidad de espacio y si las condiciones de la tarifa adquirida lo permita, puede tener penalidades y/o cargos adicionales y en caso de que la misma tarifa no esté disponible, deberá pagar la diferencia entre la tarifa vigente y la tarifa inicial.
How can I verify migration and health requirements to enter a country? (applies to international flights)
We recommend you verify these migration and health requirements at different embassies or consulates of the countries you wish to travel as your final destination or in transit. The responsibility of complying with such requirements is the passenger's and not the airline's.
What is the validity of my ticket?
you need to check the type of purchased fare ​, promotional fares may be valid for 30 days and up to 330 days for economy-premier class tickets.